Hot news
(in english)
2012/09
2012/08
2012/07
2012/06
2012/05
2012/04
2012/03
2012/02
2012/01

2011/12
2011/11
2011/09
2011/08
2011/07
2011/06
2011/05
2011/04
2011/03
2011/02
2011/01

Hot News
(in english)
2010
2009
2008
2007

issue : Avant-attaque
+++ 20130528 JINMO news ! !!!!! +++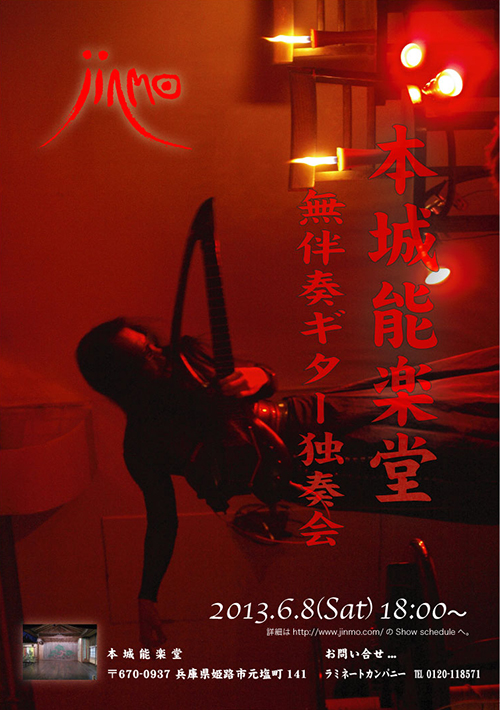 Yola sup dood, how r u mang?
We are super hyper mega giga fine!
Here comes urgent notice to all JINMO manias!
JINMO's legendary live performance at Noh theater will be back again soon!!!
... And his new sonic work "Symphony Jo-Ha-Kyu" will be unveiled there!!!
*Jo-Ha-Kyu is artistic modulations in traditional Japanese performances such as Noh and Gagaku, and roughly translated to"beginning (Jo, introduction), break (Ha, exposition) and rapid(Kyu, climax), it essentially means that all actions or efforts should begin slowly, speed up, and then end swiftly.

--------------------------------------------------------------
I think Noh theater is the ultimate evolution form as "Natural Acoustic PA" before acoustics in theaters or music halls has electrified.
Every time I stand the stage and play, I feel deep emotion that whole the space of Honjo Noh theater has become an acoustic musical instrument.
Not only the physical aspects of acoustics, the theater is filled with supernatural "force of the field" for the "Noh" which express supernatural mystery.
That's the reason why I've been fascinated by this Noh theater.
It has been 7 years since the last performance at Honjo Noh theater and I feel myself had changed and evolved greatly in these 7 years.
All for this performance, I have been secluded myself in the mountain since 25 March. (in fact, I will be back to Ginza after the show.)
At the night, I will show you my new symphonic sound, for you all, Honjo Noh theater and all the idyllists who gather there.
I will play the "Symphony Jo-Ha-Kyu" by unaccompanied guitar solo.
I, with all myself, anticipate the night to play in the supernatural mystery with you.
I will wait for you at the other side, nirvana. "
(JINMO)
-------------------------------------------------- ----------
Authentic Honjo Noh theater, is close to national treasure Himeji Castle in Himeji, Hyogo.
Honjo Noh theater is an inestimable building with history. Himeji had burnt in air raids during World War II , but Honjo Noh theater had dismantled in advance and evacuated to escape the ravages of war, and it was restored as the original again after the war.
And it also has pottery jars which are installed under the stage in order to increase the sound effects.
In Noh Theater venerable in its history, Roar of unaccompanied guitar solo of JINMO will finally revives.
September 11th 1997, May 16th 1998, December 12th 1998, June 14th 2001, November 2nd 2006, and June 8th 2013 ... this will be his 6th explosive performance at Noh stage, and it's the first time in these seven years.
And this time, JINMO gave us notice that he will play "Symphony Jo-Ha-Kyu" by unaccompanied guitar solo.
At would be a must-see/ must-listen/ must-experience event as much as "Ascension Spectacle" for all JINMO manias.
Never, ever miss this special stage!!!
http://www.jinmo.com/00/en/sonicart/showschedule.html
Starts at 18:00 On Saturday, 8 June 2013
Place: Honjo Noh theater
141 Motoshiocho, Himeji, Hyogo 670-0937
Advanced : JPY 2,000
Door : JPY2,500
Information and reservations : Laminate Company
Toll Free :0120-118-571

HARI Avant-attaque, Ageha Avant-attaque