+++ 20130307 JINMO news ! !!!!! +++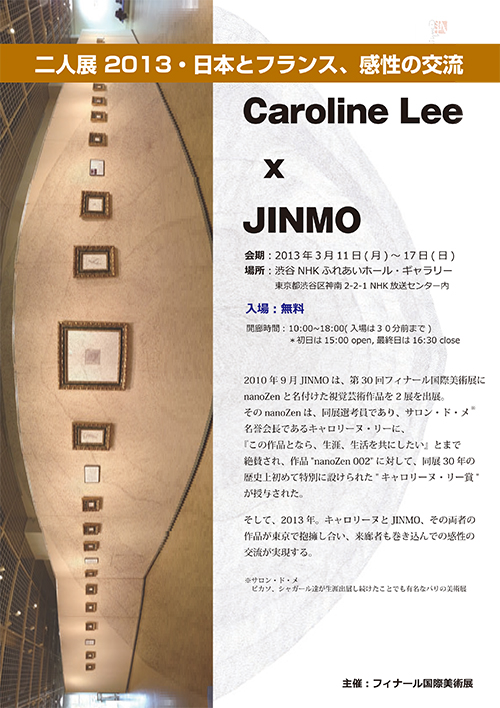 Yola sup dood, how r u mang?
We are super hyper mega giga fine!
Here comes urgent notice to all JINMO manias!
Thank you for your patience, we are happy to announce the collaborated exhibition with Caroline Lee is now open at NHK Gallery in Shibuya.
Don't miss the chance to look their new works!!
------------------------------------------------------------

+++Japan and France, The Exchange of Sensibilities+++
[Caroline Lee and JINMO]
Monday, 11th March - Sunday, 17th March 2013
http://www.jinmo.com/00/en/opticart/exhibition.html
In September 2010, JINMO had exhibited 2 pieces of his "nanoZen" works to the 30th Salon de Finears Exhibition.
The selection committee member, Ms.Caroline Lee, sculptor and the honorary / former chairwoman of "Salon de Mai" (known as Picasso and Chagall had submitted their works in their life time) really
appreciated JINMO's "nanoZen 002" as "I really love this artwork, I want to live with this all through my life", and it had awarded for Prix de Caroline Lee that the special award made first time in their
30 years history for JINMO's nanoZen Caroline and JINMO, both of their works share embraces in Tokyo, the exchange of sensibilities which involve spectators would be finally realized.
JINMO is expected to exhibit 27 pieces of his "nanoZen" works including new works not open to the public. Of course, "nanoZen 002 " as well.
Don't miss JINMO's new works unveiled in this exhibition.
It is a four-part epic (The height of each frame is over 1 m) that he had started drawing just after the exhibition in last November and finally completed just a day before the opening of this exhibition.
The titles are as follows:
【Elemental Dragons Tetralogy】
"Air Dragon(Spirit of Gas)"
"Water Dragon(Spirit of Liquid)"
"Earth Dragon(Spirit of Solid)"
"Fire Dragon(Spirit of Plasma)"
http://www.jinmo.com/00/en/opticart/nanozen.html
DATE: Monday, 11th March - Sunday, 17th March 2013
PLACE: Shibuya NHK Fureai Hall Gallery
at NHK Broadcasting Center
2-2-1 Jinnan, Shibuya, Tokyo
PHONE: 03-3481-5614
ON VIEW;
Monday, 11th March 15:00-18:00
Tuesday, 12th March 10:00-18:00
Wednesday, 13th March 10:00-18:00
Thursday, 14th March 10:00-18:00
Friday, 15th March 10:00-18:00
Saturday, 16th March 10:00-18:00
Sunday, 17th March 10:00-16:30
Free Admission
Sponsored by Finears International Arts Exhibition
Caroline Lee meets "nanoZen 002"
http://www.jinmo.com/00/en/opticart/nanozen_CL.html
------------------------------------------------------------
We'd like to thank you for your support.
We are very encouraged with the great response we have received from all JINMO fans.
Thank you!

HARI Avant-attaque, Ageha Avant-attaque