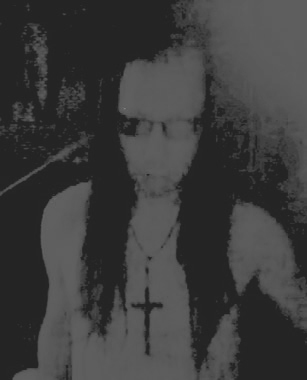 Paintings, drawings, calligraphies, computer graphics, animations... JINMO refuses to stick to genre or medium of expression and he creates his own "Optic Art" across a range of genre or medium.
Currently, his visual representations are classified into three as "nanoZen" "Japanese Calligraphy" and "dataPainting".
JINMO started calligraphy at early childhood because his mother is also calligrapher.
In the late of 1980, JINMO started using computers for visual representations.
JINMO's enormous complicated computer graphics series "Drawing", the predecessor of the present "GaV", have been in public online since 2003.

Fall 2006, JINMO exhibited his drawing "Crimson Altered States" to international digital art show "Art of Digital Show" at Museum of Contemporary Art San Diego, U.S.A.
Mr.Hugh Davies, the director of Museum of Contemporary Art San Diego and the producer of international digital art show "Art of Digital Show", he really appreciated the artwork and it had been on public during the whole show, for one month and a half.

March 2010, he held his solo exhibition constituted mainly of his BAKUBOKU collection, "JINMO Explobithion -id-" at "MAGIC ROOM???" Ebisu, Tokyo.

September 2010, JINMO exhibited 2 pieces of his nanoZen collection to 30th Salon de Finears Exhibition and his work "nanoZen 002" has awarded "Prix de Caroline Lee".
Ms. Caroline Lee, the judge of this exhibition, a sculptor, honorary and former chairwoman of "Salon de Mai" which is very famous art exhibition in Paris known as Picasso and Chagall had submitted their artworks in their life time, she really appreciated JINMO's work as she said "I really love this artwork, I want to live with this all through my life.", and "nanoZen002" was awarded a specially arranged "Prix de Caroline Lee" for the first time in their 30 years history.

In June to August 2011, JINMO will have his solo exhibition which is constituted mainly of nanoZen collection ,"JINMO Explobition -id2". The exhibition starts at "MAGIC ROOM???" in Tokyo, and it travels to "Galaxy Gallery" in Osaka, "BDSM Bar R" in Nagoya, "Salon DayS+" in Himeji, it will be held in four cities in six consecutive months.
And collaborative exhibition with Caroline Lee and JINMO will be held in Tokyo 2012.

JINMO declares "I would be strong offended to settle myself in dwarf identities such as "musician" or "painter". Figuratively speaking, I am the activist of "Avant-attaque (previous attacks)" and I am the medium which is blessed and bled in the divine providence."