This album is the enchantment, and ritual Plectics Pulse Music.
The primitive age connects with the future
in this Ultra-stucture of the complicated and detailed rhythm.
This is a JINMO's guitar orchestrated work in the shredding.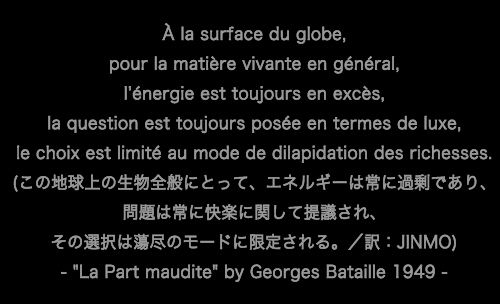 Fetishia in primitive animism and totemism.
Fetishiia in the theomorphism / divinization of data on the modern network.
There were pulse musics of complex system in every ancient Fetishia.
Pulse as incantation device.
The super sensuous intoxication impression of being by pulse.
Pulse by the sonic paraphilia.
Pulse in the Sabbath.
Pulse in the purple harmony, the purple rhythm.
Pulse in the nano groove by the nano picking.
The Plectics Guitar Orchestration in the pulse.

We recommend this not only for a guitar music-lover,
a progressive contemporary music-lover,
but also
the people who love the cutting edge of techno music.
Mutual boundary invasions of organic "Body" and inorganic "Thing".
Mutual boundary invasions of organic "Performance" and inorganic "Pulse".
In Fetishia, it is done.
JINMO