+++ Fetishia (ver.2.0) +++
Fetishia (ver.2.0)

2009/07/10 Releasediavantattaque-0055j
2016/12/6 Last Update
16 songs (total. 1:04:00)
Format : Apple Lossless (44.1kHz 16bit)
web streaming
Cover photo by : ATANAKA
Cover design by : HARI
Created by : JINMO
Published by : Avant-attaque




01. Fetishia 01 (04:00)

02. Fetishia 02 (04:00)

03. Fetishia 03 (04:00)

04. Fetishia 04 (04:00)

05. Fetishia 05 (04:00)

06. Fetishia 06 (04:00)

07. Fetishia 07 (04:00)

08. Fetishia 08 (04:00)

09. Fetishia 09 (04:00)

10. Fetishia 10 (04:00)

11. Fetishia 11 (04:00)

12. Fetishia 12 (04:00)

13. Fetishia 13 (04:00)

14. Fetishia 14 (04:00)

15. Fetishia 15 (04:00)

16. Fetishia 16 (04:00)
Since December 2016, by the intention of JINMO, we have decided to remove the price tags from all of his sonic art works that released from Avant-attaque.
A dollar, million dollars or as much as you like, you can make remittance us with following link.
(Of course, you can play all albums again and again without any remittance. All donations are welcome though!)
Your generosity will support JINMOfs future creative activities.
Thank you.

To listen to the tracks, no special device or software required.
Just press the ((PLAY)) button on each track and it starts automatically streaming with your computer, iPad or iPhone in CD quality sound.
And of course, you can download the music files to your computer.
Please enjoy JINMOfs sonic art anywhere anytime.
This album is the enchantment, and ritual Plectics Pulse Music.
The primitive age connects with the future
in this Ultra-stucture of the complicated and detailed rhythm.
This is a JINMO's guitar orchestrated work in the shredding.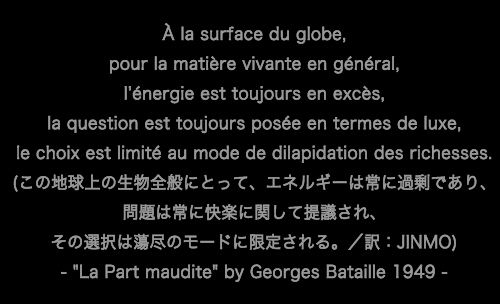 Fetishia in primitive animism and totemism.
Fetishiia in the theomorphism / divinization of data on the modern network.
There were pulse musics of complex system in every ancient Fetishia.
Pulse as incantation device.
The super sensuous intoxication impression of being by pulse.
Pulse by the sonic paraphilia.
Pulse in the Sabbath.
Pulse in the purple harmony, the purple rhythm.
Pulse in the nano groove by the nano picking.
The Plectics Guitar Orchestration in the pulse.

We recommend this not only for a guitar music-lover,
a progressive contemporary music-lover,
but also
the people who love the cutting edge of techno music.
Mutual boundary invasions of organic "Body" and inorganic "Thing".
Mutual boundary invasions of organic "Performance" and inorganic "Pulse".
In Fetishia, it is done.
JINMO
It comes with Apple Lossless (44.1kHz 16bit) high quality sound.
Web Streaming
We would like to thank you for your support JINMO.
Your support has given JINMO the impetus to keep on creating.
Regards,
HARI Avant-attaque / Ageha Avant-attaque